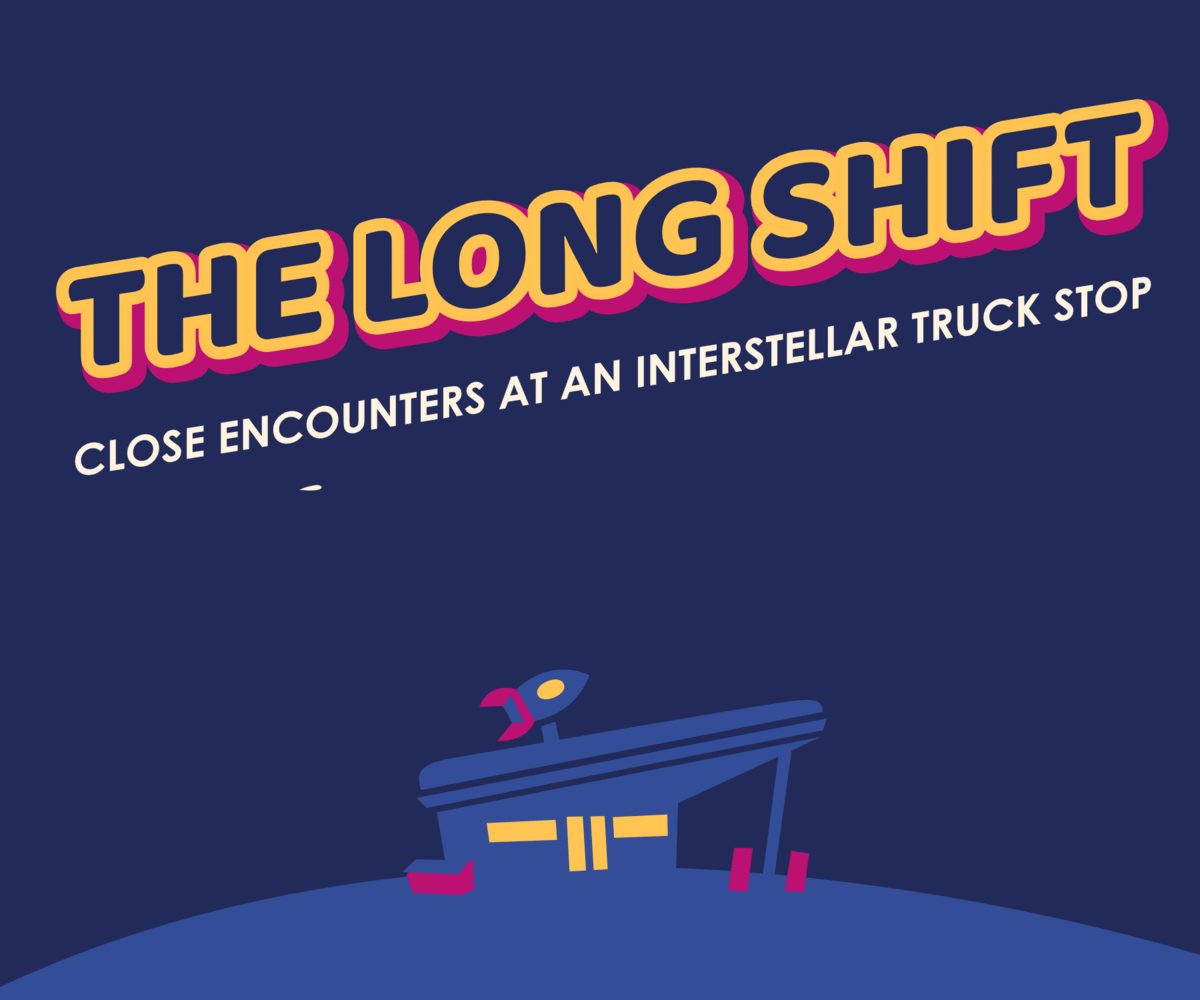 The Long Shift
Few things thrive out here in the Caliper Belt. Its sparse asteroids are flecks of lifeless stone along an inky strip of space. Back in the day, it used to glow with streaks of light as massive freighters hauled their cargo from outpost to outpost. But the ore dried up, and these days the Caliper Belt is little more than an interstellar shortcut.

Only spot in the Belt still worth visiting these days is the infamous Mari's 26-Hour Cosmic. One part gas station, one part diner, one part truck stop, one part card café, assembled from old spaceships and satellites and tethered to a hunk of rock: Mari's is a barnacle that refuses to die.
And the only reason it's still afloat is because of our motley skeleton crew. We don't see many folks come through these doors. But everyone who does drop in brings a story with them. And sometimes, those stories lead to stories of our own.


The Long Shift is a tabletop story game for two to five players. Using a standard deck of playing cards, players take on the roles of employees at Mari's 26-Hour Cosmic, an interstellar rest stop in a derelict asteroid belt. Over the course of the game, players will also take turns playing travelers who visit the rest stop, bringing news of the world beyond.
Breezy, slice-of-life gameplay, perfect for a one-shot or a break in a longer campaign
Guidance for framing scenes with an intuitive, round-based structure
Prompt tables for seamless Character and NPC creation
The Long Shift was first published in Indiepocalypse #25 (February 2022 Edition):

Hear it played!
Purchase
In order to download this game you must purchase it at or above the minimum price of $6 USD. You will get access to the following files:
The Long Shift.pdf
213 kB
The Long Shift Character Sheet.pdf
52 kB
The Long Shift without layout.pdf
471 kB